Graphics II: DynaSCAPE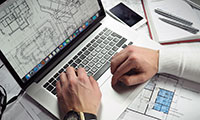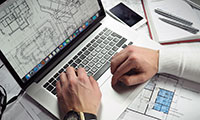 ---
Note the "Location" of each session, as we have in-person and online options. Price differences may apply. Confirmation emails contain specific class instructions.
Learn the various tools and applications of this software package for landscape designers. Topics include: basic skills for developing professional landscape plans, making base plans from surveys, techniques for quick estimates, and utilizing the online plant database. You must have basic computer skills and bring a PC laptop to class, not a Mac.
PLEASE NOTE:
This class requires basic computer skills including: use of a two-button mouse and scroll wheel, general understanding of keyboard shortcuts, ability to use the internet and access websites such as You Tube, familiarity with email and ability to download files via email, ability to create folders, familiarity with PDF and JPEG files, and familiarity with a photo manipulation program such as Photoshop or Microsoft Picture Manager. If you do not possess these skills, please contact the Registration office. You must bring a PC laptop to class, not a Mac. Please bring your power cord, a 2- button mouse with scroll wheel, and mouse pad.
DynaSCAPE software purchase of Student Version ($187.50) is required. Students MUST purchase this software prior to the first day of class. To purchase this software, please follow the instructions on
this form
. For further assistance, please contact the Registration Office at 718.817.8720 or
adulted@nybg.org
.
Click here for ONLINE sessions of Graphics II: DynaSCAPE.
---
Prerequisite(s):
Graphics I
Available Sessions