Floral Design Mini Intensive- ONLINE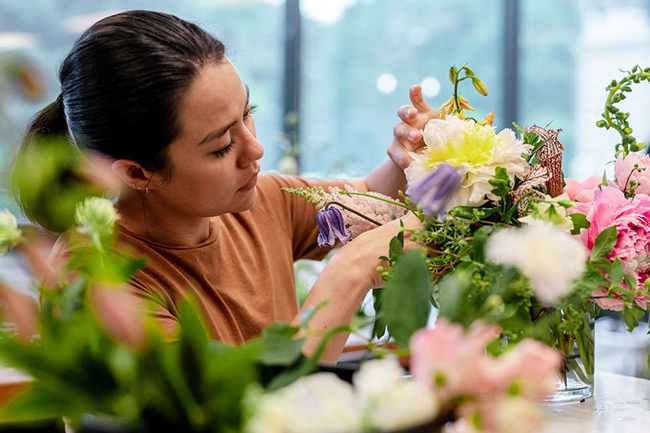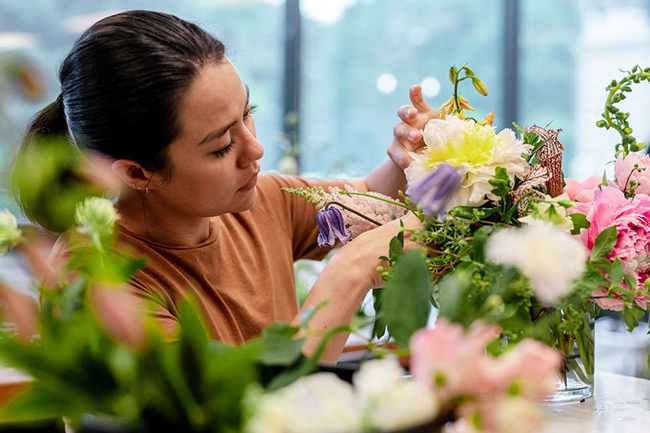 ---
This class will take place online. Registered students will receive login instructions.
The Floral Design Certificate Program at NYBG offers the most in-depth training in the region, covering every aspect of this creative art. We'll help you develop your own aesthetic, master the mechanics for any arrangement, and gain practical business skills, so you graduate client-ready.
Our mini-intensive provides an accelerated way to complete almost 50% of the required classroom credits, putting you on the fast track to completing this certificate. You'll take the first five classes of the program and create dozens of arrangements in diverse styles for many different occasions.
THE CLASSES Flower ID from A to Z
There are many types of flowers available for floral designers, from exotic imports to locally grown. Learn to identify new varieties of old favorites, seasonal flowers, and various foliages. Topics include the special handling needs of many flower types.
Summer Session: 3 Tuesdays, 7/13-7/27, 6-8:30pm Fundamentals of Form
Learn the keys to successful floral design and master the mechanics needed to create round, triangular, parallel, and crescent arrangements. Experiment with shape, line, and symmetry while composing beautiful, balanced creations.
Summer Session: Wednesday-Friday, 7/14-7/16, 10am-4pm Fundamentals of Style
The ability to command a broad vocabulary of styles defines the professional floral designer. From Neo-Classical and Victorian to English garden and Flemish, understanding floral styles expands your design options, evokes specific moods, and helps create the perfect setting.
Summer Session: Wednesday-Friday, 7/21-7/23, 10am-4pm Color Theory for Floral Design
Colors-like flowers themselves-evoke feeling and sentiment, and set the mood. Explore the role of color in floral design using a spectrum of flowers. This course gives you a solid grounding in color theory, while highlighting the latest hues and color combinations.
Summer Session: 3 Mondays, 7/19-8/2, 6-8:30pm Wedding Design I: Personals
Flowers play a crucial role in creating a memorable wedding. Learn the elements of successful floral wedding design, including the art of fine wiring and taping to create corsages and boutonnieres with fresh flowers, ribbons, and bows. Advance to the techniques of styling and assembling bridal and bridesmaid bouquets.
Summer Session: Wednesday-Friday, 7/28-7/30, 10am-4pmMATERIALS INFORMATION:
For
Fundamentals of Form, Style
, and
Weddings I
, flowers will be shipped directly to your door a few before each class start date. You will also need to purchase tools and hard goods which are outlined in the materials list that is linked below, which total approximately $250.
For
Color Theory
and
Flower ID from A to Z
, you will purchase your own flowers (or re-purpose those that are delivered for Form and Style!); the instructor will let you know what you will need each week.
REQUIRED TEXT:
Principles of Floral Design
, Pat Diehl Scace and James M DelPrince ISBN-13: 978-1619608894ISBN-10:1619608898
TUITION INFORMATION
$2,295 (Member) / $2,535 (Non-Member).
A $845 non-refundable deposit is due at registration. An optional payment schedule is available if requested.
---
Available Sessions