Course Detail: NC-SHRM - SHRM Learning System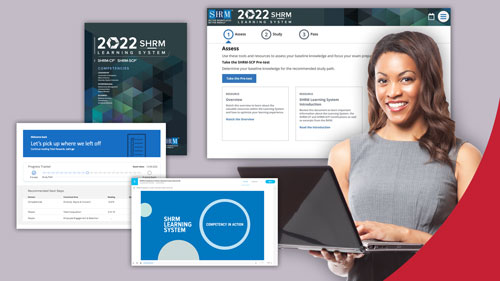 The SHRM Learning System will strengthen your knowledge base with a comprehensive review of the entire body of HR knowledge, preparing you to take either the SHRM-CP or SHRM-SCP exam. Using the SHRM Learning System, this program will give you a broad overview and understanding of the many responsibilities of HR professionals. The SHRM program is a study-intensive, fast-paced course. Periodic progress checks and homework exercises draw upon a large variety of sample questions from different sources to reinforce classroom review sessions. You will assess your competency level, as well as enrich your test-taking skills.
This program is ideal for HR professionals who want a comprehensive review before taking the CP or SCP certification exams, HR specialists who want to broaden their competency and knowledge of current HR practices, and CP level professionals seeking to upgrade their certification to SCP.
Course fee includes the SHRM Learning System workbooks and online access to SHRM Learning Portal. Due to the impacts of COVID-19, this course will be taught online through virtual/remote instruction.
Financing Your Program of Study

If you are interested financing your program of study, we work with Climb Credit, a provider that focuses on financing career-building programs to help students get a high return-on-investment from their education.
Learn more about Climb Credit or start your Climb Credit application right away - the application can be completed in as little as 5 minutes and does not affect your credit score. Most applicants receive an instant decision.
By selecting the SHRM Learning System in the Climb Credit application, you'll be notifying our staff who will reserve a space for you in the program. If you elect to accept the loan payment, our staff will provide you a discount code to use when registering online for the certificate program.
Because this program is in high demand, we can only reserve your space for a brief time. If exploring Climb Credit financing, please submit the application as soon as possible.

Course Resources
Climb Credit Re-Application Flyer (PDF Document)
: If your initial Climb Credit application wasn't approved, you're not out of options.
Session Detail: SHRM123.SHRM