Course Detail: PER200 - Call of the Wild: The New Role in Home Landscaping
Our backyards have the potential to be important ecological hubs.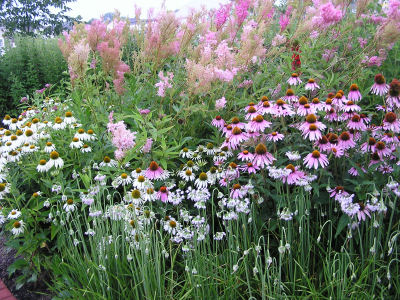 From improved soil quality and water filtration to providing resources for humans, pollinators, butterflies and birds, we can harness the growing power of plants in our own backyards. This session will provide a brief overview of many of the benefits of native plants and how we can incorporate them into beautiful gardens, while also creating healthy and functional ecosystems.
Student Testimonials:
"This course was an excellent broad overview of the subject of native plants and their ecological benefits. It demonstrated specifically how selective planting in one "average" lawn could be used to entice local pollinators and other beneficial insects to the area." - Former Student
"The class flowed very well. I liked the deep dive on how six plants can affect a whole ecosystem in terms of attracting beneficial bugs/birds. I also enjoyed learning the detailed benefits of specific plants." - Former Student
"Marissa Renz was very knowledgeable. She gave us information to get us started with our landscaping. Her PowerPoint presentation was well designed." - Former Student
"She did a great job of showing how the loss of wetlands and the degradation of soil can be countered with new ways of landscaping and gardening." - Former Student
This course will be delivered online. Classes will be facilitated by a live instructor during the scheduled course times and students should be prepared to participate in the live sessions. Class participation enhances the online student experience.

Several days prior to the start of your course, you will receive an email with information on connecting to the sessions.
Instructor, Marissa Renz, is the owner of Plant Happiness LLC, a market gardening and consulting company located in Fort Wayne. She has completed the Master Gardener, Master Naturalist, and Purdue Extension Urban Agriculture certifications, has a B.S.in Public Affairs, Environmental Policy which she received at IPFW. Currently she is enrolled in Ivy Tech's Urban Horticulture certification program. Marissa's research of plants and garden design focuses on creating visually appealing outdoor spaces that also operate as balanced and functional ecosystems.
Session Detail: 22SPER200