Course Detail: BUS215 - Managing Remote Teams - NEW!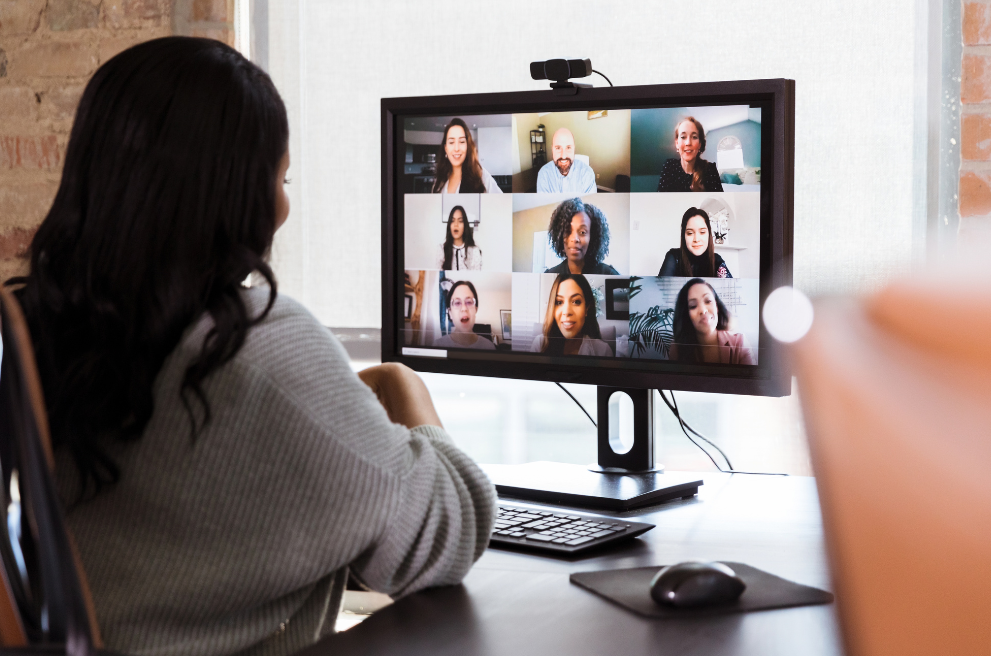 Managing Remote Teams - NEW!
Explore critical topics of communication, collaboration, culture, and diversity; examine organizational structure and support; learn new techniques for recruiting, hiring, and onboarding remotely; and tackle team productivity, effective feedback, and conflict issues. Before you know it, you will find that you have a whole new toolkit to help you keep your remote team happy, productive, motivated, and successful.
---
The Program
Lesson 1 - Understanding Remote Work
This lesson introduces and defines remote work, looking at its beginnings in 1979 and its sudden rise during 2020 to become an established segment of the workplace. Learn how remote work exists along a continuum from fully remote to hybrid models where a company or team is partially remote and partially on site. Explore key differences between remote and onsite work environments and examine the benefits and challenges of remote work. Various scenarios will introduce you to some of the management tools and strategies that will help you navigate the remote environment and successfully manage your remote team.
Lesson 2 - Managing Remote Communication
New approaches to communication are key to managing a remote team that is both productive and engaged. This lesson outlines the elements and processes necessary for successful communication in the remote work environment. Explore how communication differs when teams move from an onsite setting to a remote work setting, an in-depth discussion of various communication channels, challenges such as limited non-verbal cues and asynchronous communication, and the importance of communication guidelines. Along the way, discover strategies and practical tips for building and maintaining an effective communication flow that keeps your team on the same page.
Lesson 3 - Aligning Remote Teams with Company Culture
Most companies recognize that a culture based on company values is important to employees. This is especially true for companies that conduct some or all of their work remotely. This lesson examines the meaning and importance of culture, especially in times of transition. Learn about the issues confronting remote teams and how you can help your team to work through them. Discover how to establish and reinforce a culture of safety, trust, community, growth, and respect for the individual. You'll also learn how to ensure that the resulting team culture aligns with the broader company culture.
Lesson 4 - Maintaining Organizational Support
Whether remote work is beneficial to the larger organization depends on how the organization implements and supports it. This lesson takes a closer look at organization support, or what companies do to help employees succeed, with special focus on infrastructure, tools, and guidelines. Learn to recognize the symptoms within your team of poor organizational support. Scenarios along the way will help you pinpoint your team's needs, and proven strategies will show you how best to advocate with upper management to secure their support.
Lesson 5 - Structuring Your Team
The structure of teams, and larger organizations, forms the foundation for their work, goals, and success. Discover the major ways that companies and teams can structure themselves and the pros and cons of each structure. You will examine the elements of structure and how they impact the way your team functions. Finally, you will explore the importance of clarity in your team's structure, how lack of clarity affects your remote team's performance, and practical ways you can change or adjust your team structure to maximize its success.
Lesson 6 - Collaborate to Succeed
Companies increasingly see collaboration as critical to success in today's workforce, especially when innovation is a goal. This lesson explores what it means to have a collaborative environment and its importance for your remote team. It provides examples of various ways in which individuals and groups can collaborate. It outlines various barriers to collaboration, some of which you can anticipate and avoid and others that may develop during the collaborative process. Finally, it offers you methods for encouraging collaboration within your team and across teams and tips and strategies for overcoming obstacles.
Lesson 7 - Growing the Team
This lesson is all about growing your team, starting with determining when you need to do so. You will learn how to analyze the costs versus the benefits of adding employees to secure management buy-in. You will explore metrics for assessing the right number of employees for your team and how to evaluate and address problems of turnover. The lesson then dives into the unique challenges and strategies of remotely recruiting, hiring, and onboarding new team members. Numerous lists, tips, and sample questions offer hands-on assistance with the tasks of identifying and attracting candidates who are good fits for your team, negotiating a successful offer, and welcoming the new team member.
Lesson 8 - Managing Diverse Remote Teams
In this lesson, explore the subject of diversity in the remote workplace, starting with its value to your team and company. You will learn how access to a wide range of skills, experience, and perspectives increases your team's performance and how to measure your team's diversity. With benefits, diversity also brings challenges, and this lesson offers concrete solutions based in creating a team culture of openness, accommodating individual needs, and encouraging positive relationships among team members.
Lesson 9 - Managing, Monitoring, and Maintaining Remote Team Productivity
For most companies, productivity is the primary measure of success. This lesson takes a hard look at productivity in the remote workplace. Learn how to choose metrics for measuring your team's productivity. Discover the right tools and practices for effectively monitoring productivity without micromanaging. Finally, you will examine the most common issues that negatively impact remote team productivity-problems with communication, distractions, workload, and clarity of expectations-and get expert advice on dealing with them.
Lesson 10 - Providing Feedback in a Remote Environment
As team manager, you provide the essential feedback through which team members understand the effects of their work and use that information to guide future actions. This lesson starts with practical information on the purpose and importance of feedback, then walks you through the process of closing the feedback loop, using communication and collaboration tools from earlier lessons. Learn how to provide feedback effectively and remotely to produce positive results for your team and its individual members. Then you will learn how to elicit feedback for yourself so that you have the input you need to manage your team and your own performance well.
Lesson 11 - Resolving Conflict in Remote Teams
This lesson outlines the relationship between conflict in remote teams and team performance. Learn to differentiate task conflict and relationship conflict and to understand the difference between positive and negative conflict. You will discover sources of conflict, including those created by distance and time, communication issues, task confusion, and personality differences. Throughout the lesson, you will find real-world strategies for reducing and resolving destructive conflict within the unique setting of the remote workplace.
Lesson 12 - Managing Remotely Is Personal
The final lesson in this course looks at the three essential tools that remote team members need for success: an efficient workspace, the right communication options, and strategies for managing time and productivity. In this lesson, you will find a wealth of practical ideas for facilitating organizational support, providing relevant information, and modeling techniques to help your team be productive while maintaining a healthy work-life balance. You will also receive advice on what really works from individuals with over 90 years combined experience in remote work, both as remote workers and remote managers.
---
About the Instructor
Scott Paxton is a Certified Public Accountant and holds master's degrees in business administration and accounting. Scott has extensive business management experience across several industries. His skills include techniques to improve project and work team communication and efficiencies, both in-person and in a remote work team environment.
Session Information: 23FBUS215