Course Detail: MFG471 - 10-Hour OSHA General Industry Training (OSHA10)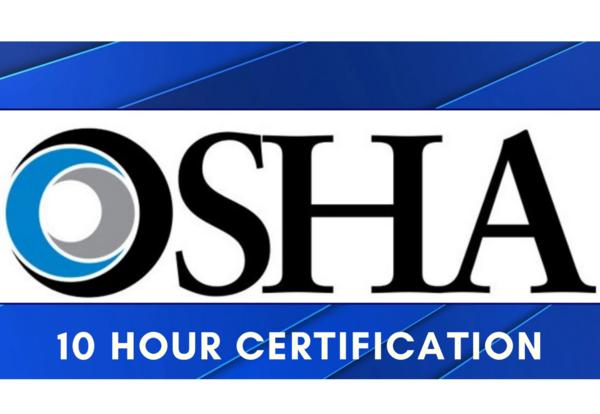 10-Hour General Industry Certification (OSHA10)
This training is a part of an OSHA outreach program that results in a valid OSHA 10-Hour Card.

This OSHA10 training course provides training for workers and employers on the recognition, avoidance, abatement and prevention of safety and health hazards in workplaces. This course also provides information regarding workers' rights, employer responsibilities, and how to file a complaint.
Through this training, both workers and employers will become more knowledgeable about workplace hazards, their rights, and they will stay up-to-date on current OSHA safety requirements. This course has been developed by experts in OSHA safety and is proven to work. It's simply the easiest way to complete your training and earn your OSHA 10-Hour Card.
This course is specifically designed for:

General workers
Warehousing and Manufacturing employees
Foremen and job supervisors
Inspectors involved in general industry activities
This program is offered fully online. Classes will be facilitated by a live instructor during the scheduled course times. Several days prior to the start of your course, you will receive an email with information on connecting to the sessions.

Instructor Adrian Cantu Jr., COSM, ASHM is an Environmental Health and Safety Manager for a high quality furniture manufacturing corporation with 15 years Environmental, Health and Safety Management experience with a degree in Business Management and HR Management. He is also a Certified Occupational Safety Manager, a Certified OSHA Outreach Trainer and a Certified ISO14001 Lead Auditor with a Technical Certification in Human Resources and Business Management.
Adrian has helped lead multiple manufacturing facilities throughout the United Sates with lowered injury rates, change of safety cultural and environmental regulatory awareness. He has also helped facilities receive multiple safety awards, including, The National Safety Council Million Hours Without a Lost Time Incident Award and The NADCA Safety Award, awarded to only 39 companies in the United States. Adrian's military experience, passion for safety and understanding of Environmental Health and Safety cultures and Regulatory Compliance concerns has helped him train hundreds of general managers, plant managers, supervisors and plant personnel to receive the 10-Hour OSHA and 30-Hour OSHA Card for Certified OSHA Course Training.
---
Available Sessions - Click on date(s) below.