Course Detail: MFG202 - Certificate in Production and Inventory Management: Part 1 and 2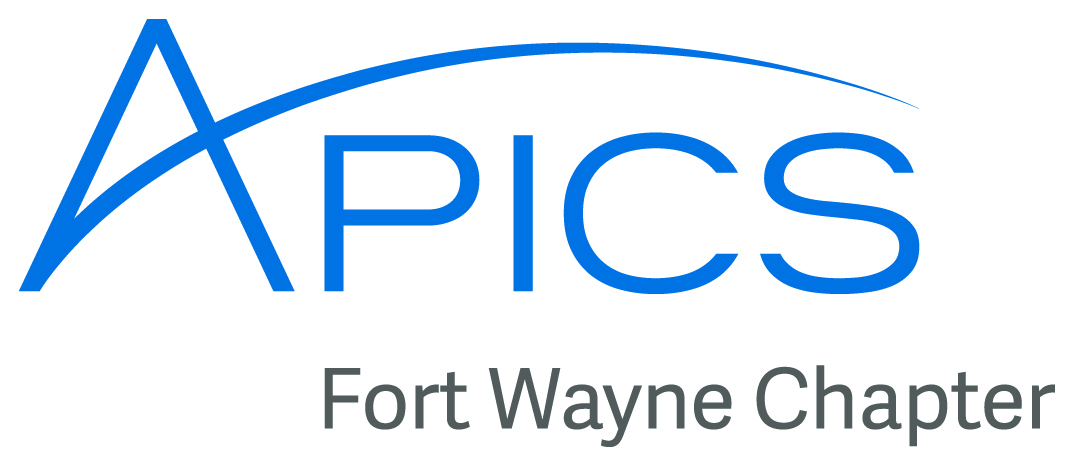 The Certificate in Production and Inventory Management is offered in cooperation with the Fort Wayne Chapter of APICS. This certificate is designed to build an in-depth view of materials management, master scheduling, production planning, forecasting, and quality improvement within the confines of the internal operations of a company.
Upon completion of the course, attendees will receive a Certification of Completion from Purdue Fort Wayne. Upon successfully taking and passing the APICS CPIM Part 1 and Part 2 exams, the attendee will be eligible to receive the APICS CPIM Certification.


Part 1

Basics of Supply Chain Management
The basic concepts in managing the complete flow of materials in a supply chain from suppliers to customers are covered in the Basics module. Supply chain concepts are introduced and basic terminology emphasized, as are relationships among activities in the supply chain. Knowledge of the material in this module is assumed as a prerequisite for the other APICS CPIM modules, which cover similar topics but in a much greater depth.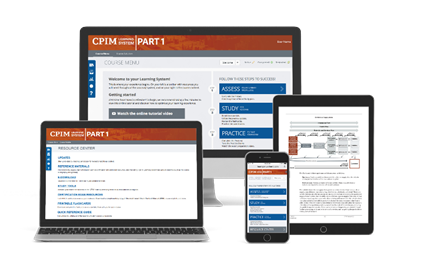 APICS Learning System

Part 1 & Part 2 Student Guides - Over 1,500 pages of content
Printed Student Slides, excellent for note taking during class
Pretest & Post test - Test your skill before & after the course, measure your progress
SmartStudy plan & Reporting track progress
Section quizzes, Case Study, Glossary & Flashcards
Practice exams emulate the weighting & timing of the computer-based exam
Resource Center includes a complimentary download of APICS CPIM ECM
Mobile access to reading modules, study tools & resources
Learn from experienced instructors who provide expertise, insights & one-on-one guidance
Network, share experiences, & discuss topics with other internal operations professionals
Obtain full access & use of the APICS Learning System for 1 year
This course is presented in conjunction with the Fort Wayne APICS Chapter.
"Advancing Productivity, Innovation, and Competitive Success"
About APICS:
APICS is the global leader and premiere source of the body of knowledge in supply chain and operations management, including production, inventory, materials management, purchasing, and logistics. Since 1957, individuals and companies have relied on APICS for its superior training, internationally recognized certifications, comprehensive resources, and worldwide network of accomplished industry professionals.
APICS recognizes the contributions supply chain and operations management professionals make to their employers and the global economy and has developed a comprehensive suite of educational resources, including:
Education, training, industry publications and research, and world-renowned certification programs.
Opportunities for career development, networking, and best practice sharing.
Local and global membership and affiliation opportunities worldwide.
Why Earn the CPIM Credential?

Increase your salary; on average designees see a 10% increase
Improve your hiring potential by 65%
Maximize ROI on systems and technologies
Reduce your organization's costs
Provide more value to your organization
Understand how to increase customer satisfaction
Build your credibility and set yourself apart from peers
This certification prep course utilizes the APICS CPIM Learning System, giving you access to the most comprehensive, effective and up-to-date exam preparation tools available. Attending our course is the most effective way to prepare to pass the CPIM exams:


Learn from experienced instructors who provide expertise, insights and one-on-one guidance.
Network, share experiences, and discuss topics with a diverse group of internal operations professionals in your area.
Stay on track to earn your certification with a structured learning experience.
Take advantage of funding options, such as corporate tuition reimbursement.
To learn more about CPIM Certification, Click Here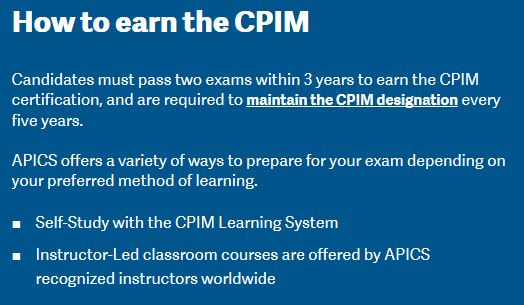 Part 2
Master Planning of Resources
Explore processes used to develop sales and operations plans; identify and assess internal and external demand and forecasting requirements; and create an achievable master schedule consistent with business policies, objectives, and resource constraints.
Topics include:

Developing & validating a plan of supply
Relating management of demand to the environment
Developing & validating the master schedule
Concepts for transforming sales, marketing, & business requirements into feasible & economical operations plans in various business environments
Address methods for managing projected & actual demands from distribution networks & external customers
Explore methods for integrating sales & operation plans, demand forecasts, & customer demand into a specific master schedule


Detailed Scheduling and Planning
Understand the concepts of Material Requirements Planning (MRP) and material dominated scheduling as they apply to process industries and other mature production environments. Become acquainted with capacity requirements and capacity-planning techniques, including processor-dominated scheduling.
Execution & Control of Operations
Focus on three main areas:

Prioritizing and sequencing work
Executing work plans, implementing controls, and reporting activity results
Evaluating and providing feedback on performance
Primary Learning Objectives Include:

Techniques for scheduling and controlling production and process operations
Explore methods for executing quality initiative and continuous improvement plans
Controlling and handling inventories
Evaluating performance and collecting data for effective feedback

Strategic Management of Resources

Explore new and existing processes and technologies related to manufacturing strategy and supply-chain-related functions.
Aligning resources with the strategic plan
Configuring and integrating operating processes to support the strategic plan
Implementing change
---
Available Sessions - Click on date(s) below.