Course Detail: HAL-DB - High Altitude Normobaric Lab
Overview
The goal of our Hypoxia Awareness Training is to teach the warning signs of hypoxia and how to mitigate the risk. The High Altitude Laboratory (HAL) normobaric chamber uses air scrubbers to extract oxygen out of the enclosure creating a hypoxic environment inside and can simulate altitudes up to 30,000 feet. Hpoxia Awareness Training consists of a two-hour classroom session on high altitude physiology which meets IS-BAO syllabus requirements and can be tailored to meet the specific company, operational, or crew needs. During the HAL lab session, participants will experience their personal symptoms of hypoxia while performing various cognitive and motor flight-related tasks in a flight deck environment. They will then correct by donning an airline-style mask before their decision making becomes clouded or they become incapacitated. Finally, upon exiting the HAL lab, we conduct a debrief using selected video excerpts during the training to highlight each person's symptoms and reactions. Participants will receive a training folder and certificate of completion. All attendees must bring a valid FAA medical certificate, 1st, 2nd, or 3rd class, or ICAO equivalent for the HAL training session.
Research
The HAL Lab provides a controlled environment in which to conduct a wide range of research and trials under the supervision of highly qualified instructors. The university can serve as a source of human subjects and has its own institutional review board available for both internal and external research.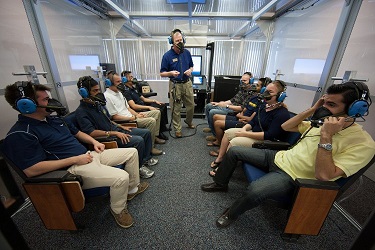 Registration Information
Prior to submitting payment and registering, please contact Professor Scott Wagner at 386-226-7910 or wagners5@erau.edu to review availability, scheduling and lab requirements.
Price:
$500 Per Person
Course Dates:
Please contact Professor Wagner for course availability at wagners5@erau.edu
Please note: Maximum of 6 participants per course
Sample Course Schedule:
1000 - 1200: Instruction
1300 - 1500: Chamber Exercise
1 Day (4 Hours)

Course Location:
Daytona Beach Campus, Florida
---
Available Sessions