Instructor: Katherine Sullivan
---
Biography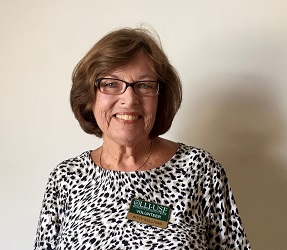 Katherine "Kitty" Sullivan has a bachelor's degree in mathematics and taught middle school math and algebra for 28 years. Since her retirement in2007 she has served as an OLLI computer coach and instructor. She has worked with computers since the late 1960s.
Classes by this instructor
---
Do you like to read? Do you have an iPad or an iPhone? The iBooks app is a great way to purchase and read books on your device. This class will show you how to browse the iBooks Store and purchase iBooks or download free ones. You will learn how to navigate in iBooks as well as bookmark pages, highlight text and take notes as you read. Bring your fully charged and updated iPad or iPhone to class. You will also need an iTunes account along with your Apple ID and your password. If you plan to make a purchase, you will need an iTunes gift card or a credit card.
SKILL LEVEL B
Get the most out of the high-powered computer that is your iPad. After we review your iPad's basic features, we'll build on that knowledge so you can take command of your iPad. We will work with
Settings, Notifications, Siri, Messages, Contacts, Notes, Music,
, the
Apple Store
and much more. Note: you must have an iPad that runs iOS 10.3 or later, such as: iPad Pro, iPad Air or Air 2, iPad 4th or 5th generation, iPad Mini 3 or Mini 4. Bring your fully charged and updated iPad to class.
SKILL LEVEL A & B