Fourth Trimester Training Series, Part 1: Postpartum Care, Reinvented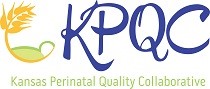 Hello, Fourth Trimester Birth Facilities & Centers! Let's get started on the intensive work together that will bring about intentional, facility-specific postpartum care changes to improve maternal health across the state!
We begin with a required training session this summer surrounding the rollout of the KDHE Maternal Warning Signs toolkit for all FTI Enrollees. This useful, free toolkit encompasses the next steps of "AWHONN Post-birth Warning Signs" training for each facility, Maternal Mental Health toolkit integration for each facility, and a deep dive into maternal hypertensive disorders as we look towards synching education and protocols.
This training is mandatory for enrolled facilities and centers, so we are offering two dates and times to accommodate your schedules. One FTI Champion from each facility must attend, and we highly recommend the attendance of your facility's FTI Lead OB Provider.
CNEs and CEUs will be provided free of charge.
Registration is required and due by June 1, 2020. If you have any questions please contact, Terrah Stroda, CNM, FTI Coordinator at tstroda@gmail.com.
---
Available Sessions