The 39th Annual Kansas Division for Early Childhood Conference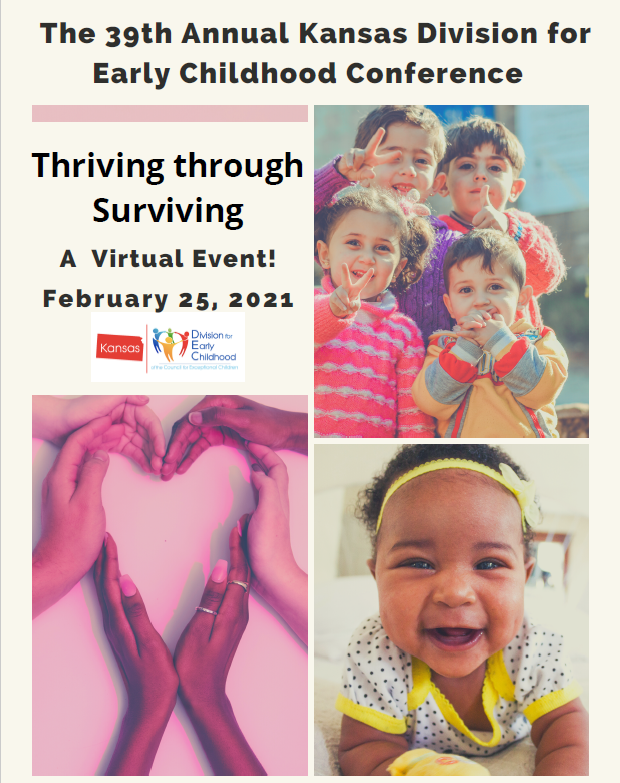 Welcome to the 39th Annual Kansas Division of Early Childhood Conference: Thriving through Surviving. I think we could all agree that 2020 brought challenges none of us had faced before. As professionals in the field of Early Childhood, we did what we do best, we found a way to "Thrive" while surviving in remote learning. Our conference this year will look different than in past years, but we hope the platform we've chosen and the options we're able to offer will provide you with a new way of networking with other early childhood professionals as well as gaining new knowledge and skills to help you "thrive" in 2021.
I would like to take this opportunity to thank our sponsors, presenters, WSU partners, and the KDEC Board. Without each of you, we would not be able to provide this experience for each of you attending the conference. I'd especially like to thank the members of the KDEC Conference Committee for all of their patience, attendance at meetings, and willingness to help in various ways this year in planning this virtual event.

Thank you to all of our current KDEC members for your continued support of the KDEC organization and this year's conference. If you are not yet a member, please check out our website at http://www.kdec.org/membership.html for more information about the benefits of joining KDEC. Once again, Welcome to this year's KDEC Conference! We hope you enjoy this virtual event.

Janelle Davey, President-Elect
---

Course Resources
2021 KDEC Conference Booklet (PDF Document)
Available Sessions