Event: NA-PRRS - North American PRRS Symposium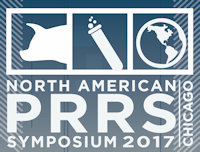 North American PRRS Symposium 2017
The NA PRRS Symposium is an annual conference for scientists, diagnosticians, practitioners and producers who are interested in porcine reproductive and respiratory syndrome virus (PRRSV), the most costly viral disease to ever face a global swine industry. The meeting is further expanded to include emerging and foreign animal diseases, such as Seneca Valley virus (SVV), porcine epidemic diarrhea virus (PEDV), porcine circovirus-associated disease (PCVAD), African swine fever virus (ASFV), classical swine fever virus (CSFV), and other high-consequence diseases of swine. Scientific topics include disease control, vaccines, pathogenesis, diagnostics, epidemiology and host genetics. Abstracts covering all of these topics/viruses will be accepted. Students and postdocs presenting posters or talks can apply for support through the David A. Benfield travel fellowships.
In 2012, the North American PRRS Symposium (NA PRRS) partnered with the National Swine Improvement Federation (NSIF) Conference to provide a world-class meeting devoted to swine health. Together again for 2017, the two conferences represent a new emphasis on the role of host and viral genetics in swine health and the control of disease.
Publicity Statement
Registration for this event gives consent for photographs, publicity and inclusion on the participant list unless K-State Global Campus is notified in writing prior to the start date.
Special Assistance


Kansas State University is committed to making conferences and non-credit programs accessible to all participants. A participant in a conference of non-credit program with a disability who needs accommodations or has special dietary requirements should contact
Debbie Hagenmaier
or call 785-532-2560. Requests for assistance should be made three weeks prior to the event. After that date, we will make every effort to provide assistance but cannot guarantee that requested services will be available.
Kansas State University Notice of Nondiscrimination
Event Date(s) and Location
This program contains no sessions.