Course Detail: AAC-1000 - Aviation Essentials [AAC 1000]

Overview
Embry-Riddle Aeronautical University's Aviation Essentials course is designed to expand the talent pool of skilled aviation and aerospace professionals through a unique curriculum. AAC 1000 engages students in interactive presentations addressing past, present, and future issues and technology for aircraft, airports, aviation, and aerospace.
This course awards 4 Continuing Education Units (CEU) upon completion.
AAC 1000 fulfills the Aviation Essentials Certificate program requirements.
Who Should Attend?
New or experienced employees looking to boost their knowledge, or anyone interested in aviation and aerospace - whether as a career or simply to advance their understanding of the multi-faceted and exciting industries - are encouraged to register.
Students who wish to only explore specific topics (aircraft, airports, aviation, and aerospace) may enroll in the individual Aviation Essentials courses. The individual courses also apply toward completion of the Aviation Essentials Certificate program.
Course Objectives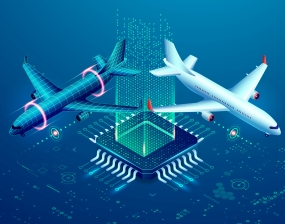 Upon completion of this course, students will be prepared to apply the new Aviation Essentials knowledge. This course provides:
A broadened perspective on challenges to advancing aviation innovation
An evaluative review of new technological effects and enhancements shaping the aviation and aerospace industries
Depth in ideas for addressing critical issues and advancing safety, policy and regulations
Inertia to engage in new markets and opportunities within the aviation and aerospace industries
Course Information
This is an online, self-paced, corporate education program divided into four topics: Introduction to Aircraft, Introduction to Airports, Introduction to Aviation and Introduction to Aerospace. The topics are presented as web-based modules and include an assessment. No additional materials or software are required, however, students will need a reliable internet connection. Digital certificates are available upon successful completion of the course. Printed certificates will be mailed only upon request.
For more information contact the ERAU Worldwide Office of Professional Education.
Session Information: W0124-AAC1000-V1