Instructor: Rajee Olaganathan
Biography:

Dr. Rajee Olaganathan is an Aeronautical Scientist and Environmental Biotechnologist with more than twenty years of combined research and teaching experience in higher education. She joined Embry-Riddle Aeronautical University - Worldwide in 2014 and has worked at the National University of Singapore, James Cook University, and the University of Nevada Las Vegas. She is a Fellow Member of the Royal Aeronautical Society, United Kingdom.

Academically, Rajee holds a Ph.D. and three master's degrees. She received her MSA (Dual specialization in Safety and Management) at Embry-Riddle Aeronautical University - Worldwide (ERAU). She has a master's degree and a Ph.D. in Environmental Biotechnology with an undergraduate in Zoology. She has also received her "Wildlife Hazard Management" Certification from the Airport Council International. She is currently pursuing her MBA in Aviation at ERAU -Worldwide.

Rajee has developed both the Airport Wildlife Management and Airport Wildlife Operations courses for the International Civil Aviation Organization's (ICAO) TRAINAIR Plus program. She is approved to provide this training and has been delivering this course since 2019. She is also on the Civil Aviation Authority of Singapore's (CAAS) panel of Guest (External) Lecturers. She has been engaged by CAAS to develop and deliver a topic on "Sustainable Aviation" at the Civil Aviation Management Programme: Developing an Air Hub course.

She is also currently serving as a director for a couple of small and medium enterprises in Asia that deal with avionics sales and services. She also serves as an aviation consultant for Klamara LLC. (U.S.) which is a new start-up. At Klamara, she is involved in creating organizational infrastructure and spearheading partnerships with test equipment industrial suppliers.

Throughout her career, she has been engaged in teaching and research in interdisciplinary fields of science to develop tangible solutions to environmental and aeronautical challenges. She is experienced and highly proficient in different areas of aeronautics, especially aviation safety, management, human factors, aviation sustainability, renewable energy/biofuel production, airport wildlife management, environmental sustainability, and environmental safety. She has presented research papers at national and international conferences and has several publications in peer-reviewed journals. Her research contributions include thirty-four publications and twelve conference presentations. She also serves as an editorial member and peer-review panel member for several peer-reviewed journals.



Classes by this instructor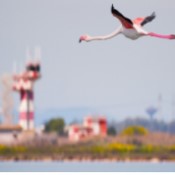 This course provides a complete overview of the critical components involved in a Wildlife Hazard Management Program, integrating aviation knowledge and its stakeholders together with a broad understanding of wildlife and habitat management. Participants will review developments in technology, dispersal and data collection equipment and explore a broad spectrum of management strategies and methodologies.
July 17-19, 2023, ERAU Singapore