Course Detail: SUAS-5000 - Incident Evidence Collection and Preservation for Law Enforcement [SUAS 5000]

Overview
Embry-Riddle Aeronautical University's (ERAU) Incident Evidence Collection and Preservation for Law Enforcement provides Small Unmanned Aerial Systems (sUAS) academics and flight training for advanced law enforcement users. With an academic focus on professional aviation standards and best practices including safety management systems (SMS), the course presents in-depth analysis of complex topics such as development and use of Standard Operating Procedures (SOPs) and checklists, crew resource management (CRM), human factors, aviation weather, both day and night flight operations, regulatory compliance and documentation, and post-flight data processing. The flight portion builds from basic and advanced flight maneuvers emphasizing safe and effective operations to unique flight and data collection missions. Each mission increases in complexity and culminates in multiple, post-incident data collection and processing missions, utilizing various sUAS platforms and processing software. Operators are required to possess a CFR Part 107 sUAS Remote Pilot Certificate prior to starting the course. Prepare for the CFR Part 107 certification certification through Embry-Riddle's sUAS Ground School.
Who Should Attend
Emergency Services organizations and/or personnel
Individuals wishing to learn more about evidence collection and preservation on an organizational level
Law Enforcement organizations and/or personnel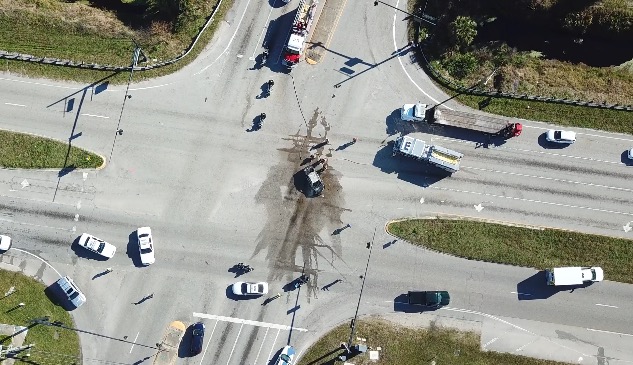 Course Objectives
Demonstrate proficiency in basic and advanced flight maneuvers
Execute critical elements of flight safety and crew resource management
Identify the major components of a standard operating procedure
Develop experience employing standard operating procedures and checklists
Demonstrate effective mission planning
Implement effective use of visual observers
Examine the unique requirements of night operations
Demonstrate automated route planning and execution
Demonstrate legal and regulatory compliant flight operations
Gain proficiency and currency in multiple multi-rotor and fixed wing sUAS
Create post-flight data products
Course Information
This is a face-to-face course with all academic and flight operations conducted in person. Transportation to/from the classroom location is the responsibility of the student. A minimum of 4 students is required for on-site training. For more information, contact the ERAU Worldwide Office of Professional Education.

---
Available Sessions